Our Logos
NAIA is the nation's leading advocacy organization for animals and for the people who love and care for them. NAIA cherishes the human-animal bond, believing that people and animals are bound together by natural law in an ancient relationship that benefits both.
The NAIA logo reflects the roots of this ancient relationship – the natural interdependence of people and animals as joint inhabitants of the earth. The human figure in the middle of the NAIA logo signifies that our role as responsible stewards is vital to solving problems and achieving balance in the natural world.
It is in this spirit that NAIA celebrates and supports the people who care for animals, whether as dedicated professionals, scientists, farmers, wildlife conservationists, shelter workers, bird watchers, sportsmen or pet owners. We hope you will join us in this constructive and joyous mission.
Want to show your support of NAIA? Link your site to ours with an NAIA banner!
<a href="https://naiaonline.org/"><img alt="NAIA" height="90" src="https://naiaonline.org/logo/NAIAOnline-Logo.png" title="National Animal Interest Alliance" width="302" /></a>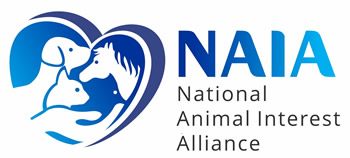 <a href = "http://www.naiaonline.org" target="new"><img src="http://www.naiaonline.org/images/NAIALogo.jpg"
alt="NAIA Official Logo 2017" width="350" height="158" border="0"></a>
<a href = "http://www.naiaonline.org" target="new"><img src="http://www.naiaonline.org/images/naia_logo.jpg"
alt="NAIA Animal Rights Logo" width="300" height="297" alt="" border="0"></a>
<a href = "http://www.naiaonline.org" target="new"><img src="http://www.naiaonline.org/images/banner.jpg"
width="262" height="138" alt="" border="0"></a>
<a href = "http://www.naiaonline.org" target="new"><img src="http://www.naiaonline.org/images/banner2.jpg"
width="262" height="138" alt="" border="0"></a>
And for a banner linking to our values statement:
<a href="http://www.naiaonline.org/pdfs/values_statement.pdf" target="new"><img src="images/LogoBanner.jpg" width="730" height="98" alt="NAIA Logo" border="0"></a>